Back in 1989, gas prices averaged 99¢. It reached $1.59 in 2000, jumped to $3.11 in 2010, and was nearly unchanged at $3.04 a decade later in 2020. However, in 2021, the gas gallon price jumped from $3.26 in January to $4.60 by year's end, a 41% increase. It was the most significant rise since 2009.
In 2022, gas prices soared even higher and sat at $6.40 to start October, up another 43%. Prices have nearly doubled since January 2021. From driving less to carpooling, to combining errands, to eating out less, at these levels, consumers have adjusted their behaviors.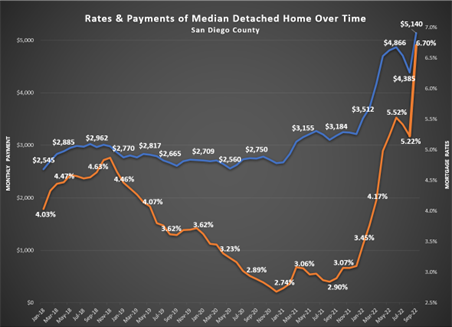 It has been similar for housing, and an even larger adjustment in consumer behavior, as not only have home values surged higher but so have mortgage rates. The combination of the two has rippled throughout the housing market. According to the Federal Housing Finance Agency, Home Price Index in San Diego County, home values rose annually by 4.3% in 2020, the first year of COVID, up 15.9% in 2021, and surged to 22% higher through the 2
nd
quarter of 2022. That's when the median value of a detached home stretched to nearly $1.3 million, a mind-blowing 51% higher than January 2020s $855,000 median. Home values had reached unbelievable heights.  
In addition to values rocketing higher this year, so have mortgage rates. Upon ringing in the New Year, according to Freddie Mac's Primary Mortgage Market Survey®, rates were at 3.22%. They surpassed 4% in March, 5% in April, 6% in September, and 6.7% last Thursday, more than double the start of 2022. The combination of higher rates and higher home values has completely flipped housing, and consumers have changed their approach to housing.  
The ultra-low-rate environment and lack of available homes on the market, which reached record low levels in 2020 and 2021, made home values escalate out of control.  Mortgage rates remained at record lows from April 2020, after the start of COVID, through the first week of this year, 21 months straight, where they ranged between 2.65% to 3.5%. Despite increasing values, payments for the median-priced detached home in San Diego County
decreased
from $2,709 in  
January 2020 to $2,677 in January 2021, a drop of $32 per month.  
Unfortunately, rates remained low, and the inventory dropped to unprecedented levels. A peak of only 3,180 available homes was reached in August 2021, far below the 3-year average peak before COVID (2017 to 2019) of 7,354, a mind-blowing 57% less.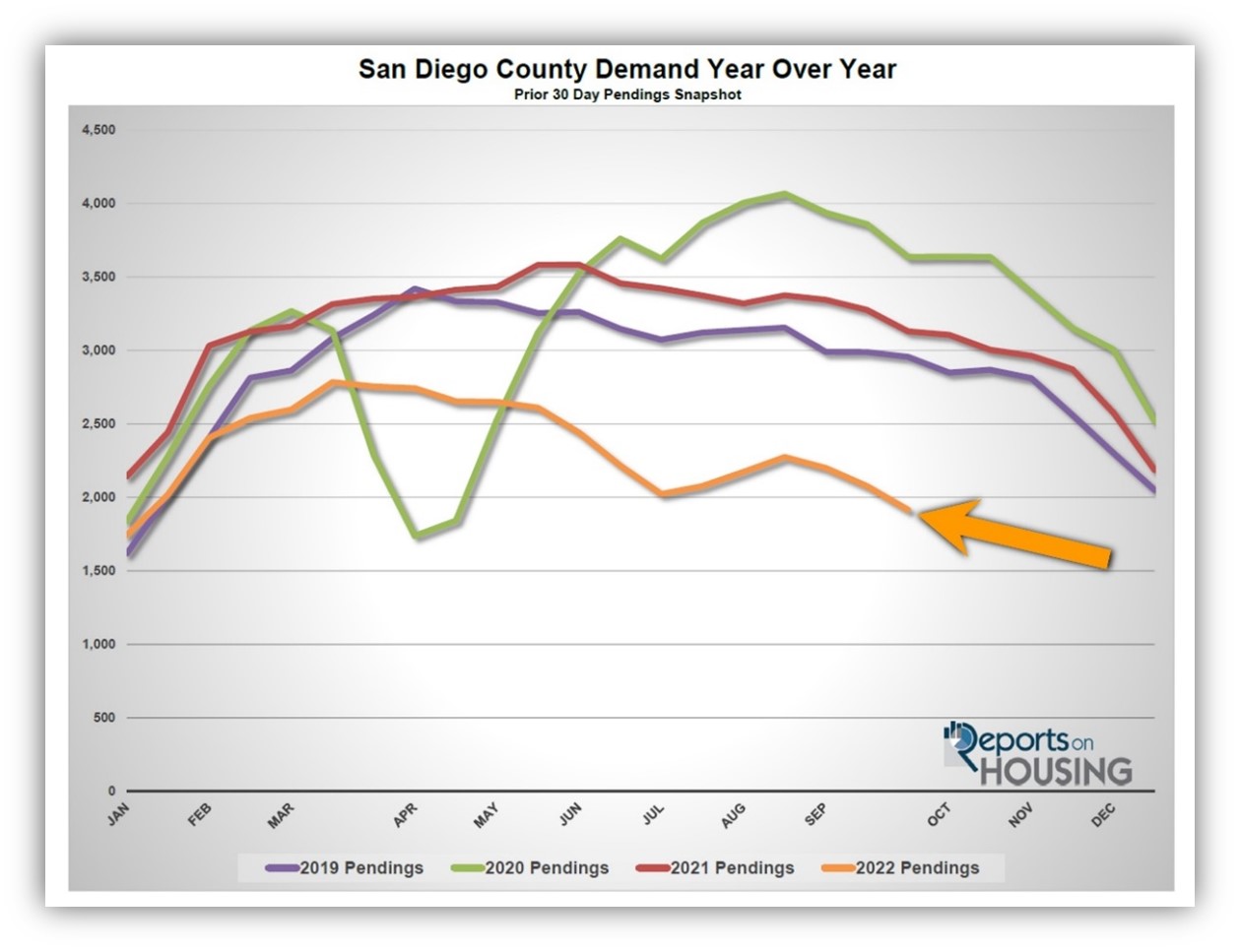 The inventory had reached catastrophically low levels, so home values catapulted to astronomical heights. As a result, payments reached $3,512 per month in January this year. As rates shot higher in 2022, so did payments. March's 4.17% rate and a $950,000 detached median meant payments had grown to $4,167 per month. Payments stretched to $4,866 in June. As of the end of September, with rates at 6.7%, the payment had jumped to $5,140 per month.
For perspective, that is an extra $2,431 per month, or $29,172 more per year, for the median-priced detached home in September compared to the median-priced detached home in January 2020.
Click here to get the full report